Settling into Penang
As always, I am here to report our progress and the inevitable change that we witness on our Sunflower Journey.  There is so much, and I have been slack at keeping more regular posts due to the very nature of this initial transition to somewhere new.  Lets call it culture shock.  I remember this from our initial weeks in Cambodia, you learn and witness so much so fast, as our thoughts struggle to keep up and make sense.  I think a lot about Cambodia and our experiences there, what we discovered, what we learnt, what we witnessed.  I feel so much stronger as a person, as a family, and awakened to lives less fortunate that our own.  J feels it more deeply than me, he has spent every day of every week these past months embedded in an NGO, learning what it takes to make a difference.  I for now have a work project related to Cambodia, so I feel connected albeit in a distant way.  The boys have fond memories of Cambodia, it is nature's way to remember only the best bits, and of course there were many.
When you are on the road, sightseeing, hotels, transport all become instant fodder for the writer.  This is different.  The domesticity and sense of routine and normality in itself is change, how we settle and learn to live within these new parameters.  Still this is a new country, a new culture, new everything and inevitably there is much change for us along the way.  I am sure it has always been the case, but life moved so fast before, and I didn't take notice of our own personal growth.
For Penang, the weather has cooled a little in the past days, and we are all hoping the incessant haze from Indonesia has now cleared for a while.  The heat and the haze can be very debilitating, and at times oppressive and I guess that is our equivalent of those slushy murky winter days in Europe.  I have been fortunate with more work these past weeks and although it brings me great satisfaction, I struggle to balance the fragments of time in which I can give it focus, mostly late at night long past the boys bedtime.  I still have been out and about when I can, feeding my curiousity.  I love the brisk morning walk through the Botanical Gardens, sharing a special time of the day with locals from all walks of life.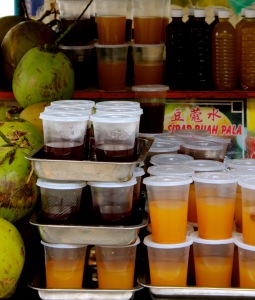 To my own astonishment, I have joined a gym.  For less than 10 dollars a week I have access to running machines looking out to sea on the top floor of one of those malls near school.  A little disconcerting to discover Les Mills classes in situ, but nonetheless it is a cheap, convenient, WIFI-activated space where I can tick off the exercise requirements for this ever-expanding midriff and a productive use of time whilst waiting to collect the boys.  Even at the gym people are friendly, plenty of smiles and chatter make a great start to the day.  As I witnessed in those first few days here in Penang, there is a relaxed attitude and friendly spirit here which is enough to make the most lonely person in the world feel at home.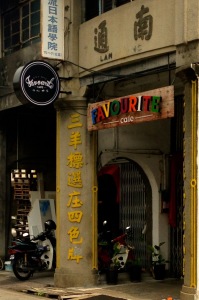 Having felt ever-so-slightly fitter than in recent weeks, I accepted an invitation from another school mum to accompany her on a brisk walk up to First Stage, Penang Hill. Penang Hill is a group of peaks, a hill station established by the British during their time in Malaysia.  There are several paths and hikes up to the top, around 3-4 hours to reach the summit.  Even this short hike of around 30 minutes was  tough, more steps than I have climbed in several years, and so steep my legs were shaking.  A true sense of achievement as we reached our turning point (about 1/10th of the full hike to the top!), with casks of fresh Chinese herbal tea to replenish the body.   It wasn't until we descended I discovered the normal routine is to run up!
Miami Green
We are settling well into life in the concrete jungle of Miami Green Condominium, as us humans always do when things start to feel familiar.  The apartment is easy and comfortable, it is small but with what I now consider to be ample room for us all.  If I'd learned some of these lessons several years ago, we could've saved ourselves a nice nest egg for the future.  Despite there being several hundred apartments, over 50% are unoccupied at any one time – owners overseas, or expats returning for only a couple of months during the year.  I was sure it would feel so much busier, and it is a pleasant surprise to be only wake to the sound of birds in the early morning.
I love to swim, and the pool is what people love at Miami Green, albeit a little tired and in need of some renovation, it is a fantastic size for both exercise and leisure.  To the boys delight, a super fast tube slide sits in pride of place with its own splash pool and seems to generate hours of fun for all ages.  I have never had such constant access to a pool before, and I have to pinch myself that I actually can throw on my bikini and head down to the pool, anytime.
Once again, I can't fail to notice how friendly people are, from locals and expats swimming in the pool, to the staff supporting the upkeep of the place.  Miami Green is a sociable place, and I was delighted to be offered to join casual drinks by the pool at 430pm on Fridays, "Just bring a snack to share, and your own drinks".  Armed with a plate of sliced peppers and tortilla chips (sum total of my inspiration) the boys and I headed down to the pool.  I am not equipped with your classic sundowner gear yet (plastic cups, cool bags) so there was a look of interest as I pulled out my entire bottle of ice-cold vodka, and a ready prepared glass with ice and a slice.  I think I went up on their estimations.  I intended to stay just an hour or so whilst the boys had a swim, but true to fashion when you dread something you often end up loving it, and way too much vodka later, a lot of laughs with a handful of expat ladies of all ages, I was dragged back upstairs by the boys.
There is an on-site shop with the most delightful Indian Malay couple servicing your every last minute forgotten need – in my case tonic, milk and ice-cream.  I had a wonderful encounter with the owner whilst selecting 2 ice-creams for the boys.  "This one is for Mummy" she said to Oscar as she pointed to the Gold Magnum. "No,No" I replied, "Not for me".  "Why?" she said.  "Oh you know, I try to be careful".  "But why? Would miss out on this delicious ice-cream?  It can do no harm. You only live once, and you must enjoy each day".  "I'll take the ice-cream" I replied.  Ice-cream, one of life's simple pleasures.  It tasted good, and this simple interchange made an impression, a moment in which my spirits changed to being reminded that life can only be  what you make it, we are each responsible for realising our own hopes, dreams and aspirations.  Finally, I accept we have been brave to make this journey, and just because routines and stresses in some shape or form have returned, doesn't mean the essence of what we have learnt can't continue.  Here we are, in a tourist hotspot of South East Asia.  We owe it to ourselves to make the most of it, to learn and enjoy each and every day we are here.
Friends & Playdates
For the boys, this past week saw a first playdate with some lovely new British friends met through a boy in Zachary's class.  We haven't socialised much since this journey began, and I realise now what an important ingredient it is to one's life, to share moments of an average day with like-minded people.
As to school, all is going well and the boys feel are in good spirits and settled in their new routines.  Zac has specifically requested we don't keep moving as he has his new school now – I didn't know how to respond!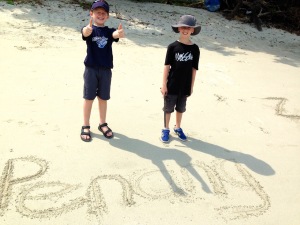 We have had the official 4-week review with each of the class teachers.  Both boys doing well, no particular concerns and a great start to the term.  The trauma of student pass visas has now begun, with a myriad of bureaucracy to navigate.  It's not fun and it keeps me awake at night, worrying it will not all be possible.  Original birth certificates, marriage certificates, employer letters, Malaysian bank accounts, and money in the bank accounts.  We will try our best to make this happen, and as I have learnt, what will be will be.
It is Deepavali week and Penang is alive with celebrations preparing for the big day in the Hindu calendar.  For school, the boys were asked to wear a traditional Indian shirt as part of the celebrations.  This had meant a hasty trip to the centre of Little india in Georgetown.  Don't underestimate this task – it is hot here, very hot, and Little India is busy, alive with locals eating at all times of the day, music blaring and an almost carnival atmosphere.  We found a typical Indian store with more clothes and material than I could cope with.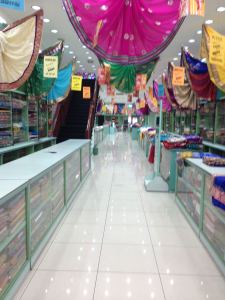 We have had a week of half term and true to the Journey I'm never short of an idea or two to explore.  J had already returned to Cambodia, and we decided to meet in Johor Bahru, Southern Malaysia on the Singaporean border.  There is always a bargain to be had with Air Asia, making travel here so accessible.  For the boys and I this was an early flight from Penang, our favourite Fernandez-the-Taxi collecting us at 0530 in the morning, entertaining us with stories of Penang along the way.
One of my greatest friends from school days has been based for many years in Singapore, more recently relocating across the border into Malaysia.  It was so exciting to be together again with a full itinerary of lengthy chats, beers and schoolfriend laughter.  Toby and Linda have two delightful younger girls and the children got on so well together.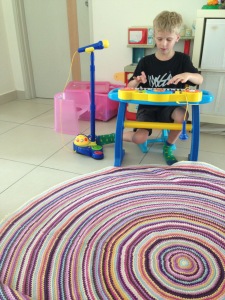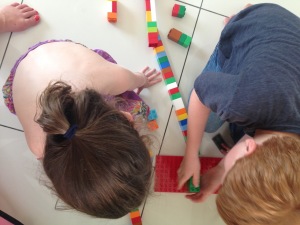 My old school from the UK, Marlborough College, has tackled an incredible project to open a school Marlborough College Malaysia.  My old housemaster now the headmaster here in Malaysia, and another long-lost friend now a teacher.  It was a delight to spend time with them all, social gatherings and a magnificent tour of the school campus.
Another main incentive for a trip to Johor was our belated birthday gift for Big O to visit Legoland.  Conveniently only a few minutes from our friend's home, we had a treat day of 6 hours in Legoland.  Surely the dream of every lego-obsessed boy, to become part of a Lego imaginary world for the day.
It was extremely hot, and we took it slowly with regular cool drink stops but making sure we tried everything, from feeling sick on the roller-coasters, to soaking ourselves on the log-flumes and the more focused activities such as building our own lego square for the Deepavali lego mosaic.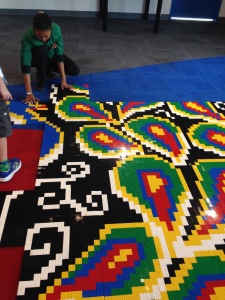 Refreshed and Recharged
We enjoyed such a special few days reconnecting with old friends and have returned to Penang refreshed and batteries recharged.   As you may have noted from a previous post, we are living a little way out of the main town, in a popular tourist spot by the name of Batu Ferringhi.   Not far from us is also a popular national park for hikes and eco-trails to visit turtles.  This was high on our agenda to explore, and we spent a delightful morning like true boy scouts clambering along a jungle path for an 1 1/2 hours to Monkey Beach.  To my delight we were met with plenty of locals selling fresh coconuts, juice and snacks.  And the best bit of all is you hire a boat to hurtle you back to the park entrance.
We have made the most of the few days left of half term whilst all together, but also conscious of a need to take it slowly.  J has only spent a week in Penang, and there is still much of the routine of life to share before I disappear to the UK for a new passport leaving Daddy in charge.  In amongst the daily chores, we always look for something new and fun for the boys.  Our latest find is a playwark with water jets turned on as the day starts to cool around 430pm.
Playing and swimming can be exhausting, and it had all taken its toll on Zachary this week, who had been under the weather for a few days.  Our Saturday night out was curtailed with him being sick, so just Oscar and I headed out to fetch dinner, and to sneak in a sundowner by the beach, sipping our Apple Juice and Singapore Sling, watching the world go by.