Asian respite and reflection
Really, the situation at the British Passport Office is pretty dreadful.  Cost-cutting activities have reduced consular services supporting British Expats around the world.  Renewing passports outside the UK no longer an option Expats in up roar all around the world as all passport applications are now processed only in the UK.  Yes, of course, it is possible to do this remotely by completing the forms, sealing in an envelope and hey presto, cross your fingers and hope for the best.  Minimum 2 month turnaround.  This was not ever going to follow suit with Sunflower Journey, 2 months theoretically "stuck" in Malaysia, with 2 small boys?  Simply not an option.
It was a strange feeling to be packing alone, 9kgs of luggage – how easy is travel alone?  Travelling with family I always feel the need to be prepared for every eventuality, and yet alone I am much more likely to go with the flow, what will be will be.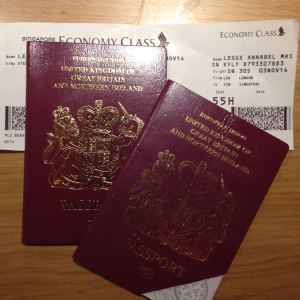 Fortunately, a seamless arrival into London into the fabulous refurbished Terminal 2.  Heathrow Express into London Paddington, Jubilee line on the tube to West Hampstead and I was knocking on the door in time for boiled eggs with my dear friend Moya.  In some ways, my timing for a sojourn in the UK was terrible, half term and so many of my special peeps catching the last of the summer rays overseas and in far flung places in the UK.  But, it was meant to be.  This sharp turn in my journey became a time to reflect, and to observe.  Forgetting the inevitable expense of it all, actually the timing was perfect.  A moment in time, to be alone, to break from Asia and look back, reflect, cast to memory our journey thus far.
London put on a great show.  The weather was fabulous, the buzz and the totally vibrant nature of the city at its very best. I was both a local, buying up the underwear sections of M&S and dining with friends, and a tourist with aching feet, making the most of this time to absorb The National Gallery, Saatchi Gallery, Hampstead Heath.  I sipped coffee watching the world go by, and gossiped over cocktails in Soho.  It felt delicious.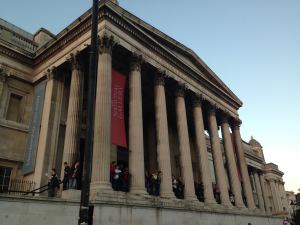 Passport Day
Of course the first couple of days in London always had this edge, the anxiety of Passport Day.  Had I filled in the forms correctly?  Had I ticked all the right boxes?  Did I have the appointment date wrong?  The stars were aligned and the process was complete within 4 hours.  Before I knew it I was bound for my spiritual home on the train from London Paddington to Taunton, Somerset.  Our parallel life in Penang, as our student passes are finally lodged with Malaysian Immigration, as we now await their verdict.
Somerset
Short and sweet my time in Somerset was magical.  Home.  Mum.  An incredible, special time alone together.  Wining, dining and walking, I took it slow and revelled in the familiarity of being back.  During these brief moments, I noticed a new sense of calmness.  A sense that it had finally become possible to enjoy a moment.  To put on the breaks and take in this one single moment.  Perhaps all that comfort zone stretching, all I have seen, experienced and learnt has paved the way for self-satisfaction.  This is me.  All there is.  Nothing more.  Take comfort in just being.
From Somerset, I returned to the City of Bath, once home for J and I, and Oscar's birthplace.  A crazy night like the old days and an old-fashioned hangover to match.  I wandered the streets of Bath taking it all in, bumping into people from my past.  Pots of tea and gin cocktails.   For the first time since leaving for NZ 5 years ago, and leaving Bath 8 years ago, this felt like our home.  At this stage in our Journey, a little unsettling to realise this is where we want to be, where we feel connected and at home.  Bath is of course, a hot tourist destination, and coming in fresh from Asia, you realise why.  It is quite the most beautiful, majestic city – so vibrant, and oozing culture from every pavestone and walkway.  I realise a beauty I've never noticed before, in my own country, my own home.  My eye searches like a photographer, but I am not quite ready to take pictures.
This has been such a special week, not travelling for work, not travelling with family.  I am not sure I have done this for many years, and I urge all of you out there to seek the time, the space and opportunity to be just you.  Remember who you are, and notice how you feel when you have a moment in time to just simply think of yourself and to think your own thoughts.  To spend time with friends and family simply as you, a freedom to just be in their presence, to listen and feel connected.   Distance can make the heart grow fonder, and a little time apart can make you each stronger.
And with mum away…
I can't regale stories of the boys this week, I have spoken to them and I know they have coped well and had fun, but I have not been there to recall their every moment and daily life.  I know they eat lots of sausages, pasta, pizza and have a points system at home for slot machines in the Mall.  A big storm has seen them cuddle together in the middle of the night.  They've washed the car and celebrated Halloween, and clung to the homework schedule by a mere thread.  This is Dads time, and they have been happy.  To see those boys from afar, to feel their happiness and their security in knowing they are loved, is evidence that a little bit of craziness in your life can be a wonderful thing.
I have quizzed them on school in many different ways, to know if they feel happy there.  They seem happy with the structure, the school environment and the teachers.  I think they feel safe, and at ease there.  Yet I can't help feel there is something deeper at play here for they actually don't join in much, they are not interested to play football or games with the other children, they don't ask to do or have the same as the other kids in their class, but to be home. I watch them run off in the playground each morning, but only to chase and run together.  I watch from afar and see these two boys who have been on such a journey themselves.  The more time passes, the more I realise what we have done, and how what we did do has changed us forever.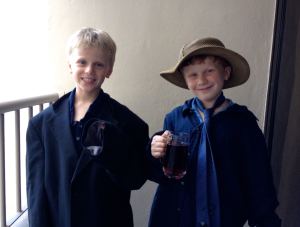 Our friend Lara has been with us this week, armed with Kiwi goodies.  I have had my first attempt at being a Penang Tour Guide and certainly I have realised that armed with a sprinkle of curiosity you could keep yourself busy in Penang for months.  There is so much to see and discover, small doorways seem nothing from the outside, but in which hide the jewels of Penang.  A simple street food car can look nothing from afar, but can serve the best Roti in the world.
Really, it takes time to discover a place, and I wonder if I will actually ever travel quite the same again.  We barely knew Battambang even after 4 months, knowing a place means knowing it physically, spiritually and a connectedness to the lives of the people that live there.   Those weekend breaks and you think you have "seen" Singapore or Paris, but actually you barely scratch the surface.
Our tours this week has seen us back to the National Park with the walk to Monkey Beach, cocktails by the beach (obligatory), walks in Penang Hill, resting by the pool, fresh coconut and local juices, historical centre of Georgetown, Penang pastries, Chinese Tea Tasting, breakfast roti from the street vendors, shops and temples.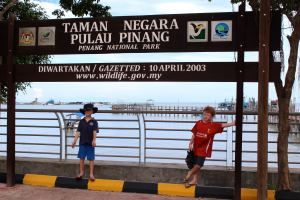 I have struggled to be back, anxiety around what the next steps are, and a very strange sadness that it is not quite my time yet to be back in England.  All I meet suggest it is not time to be back in England, "Why would you?" they say.  But I also know that we have been fully stretched on our Sunflower Journey.  I have finally learnt how simple life can be, how enjoyable it can be, but only if you can share your days with the people you love most in the world.
The power of travel, and the experiences we have, make me realise what we have always taken for granted.  This hasn't made me want to pack up and run home, but I have identified the powerfulness of Sunflower Journey, and I don't need to conquer all life's lessons now.  We have created for ourselves this time and space to be different, to think different, to learn as a family.  We are not quite finished, but once we are we know where home is.