Boys start school in Penang
It was quite a trek returning from Phnom Penh to Penang, more due to the emotionalism of such a quick decision to abandon Cambodia (and J!) earlier than planned.  The boys and I each feeling unsettled and in our own zone of silence and contemplation.
With no direct or transfer flights through to Penang, we faced with retrieving our luggage and checking-in all over again at Kuala Lumpur International Airport.  Malaysia school holidays also left us with little choice in hotels with the best deal at Traders Hotel, Georgetown for the first two nights.  Sadly not a patch on the classic Traders hotel in central Kuala Lumpur,  but nonetheless a good central location and access to the Club Lounge for the infamous Legge Drink O'Clock.  We arrived around 5pm (Drink O'Clock) and despite our inevitable fatigue we pulled it out the bag to about-turn to the mall for school shoes.  Our prayers answered in the form of cheap and cheerful Bata, with 4 pairs of sports / school shoes purchased for $60.
Monday
Monday. 740am.  Butterflies, heebie-jeebies, call it what you will there was met certainly anxiety in the air.  Silence prevailed throughout the short taxi ride to St Christopher's International Primary School, Georgetown, Penang.  Before I knew it each beloved boy was shuffled into their respective classroom.  Done.  How did that happen?  Homeschool Cambodia to normal school Malaysia in less than a week?  Seriously, that's fast work.  Despite my own butterflies, I know they are in a safe, respectful and happy place.  They, and we, have made the right decision to be here.
So without the boys by my side I was at a loss as to what next.  I couldn't focus or apply myself to anything.  Those ever now familiar signs of #notcoping are apparent as I furiously scribble a lengthy, and quite honestly ridiculous to-do list.  I accomplish nothing.  Slowly I am recognising these #notcoping signs.  Be fair on myself.  Stop.  Be still.  It can wait.
Filled with apprehension I arrive early to collect the boys for school finish at 2.15pm.  As I wait amidst every nationality you can think of, I welcome the realisation that this is an international school in every sense of the word.  The boys are done.  They are pale, exhausted but totally, completely fine.  A hard but mainly good day.  No tears, yet.
One day of school and the first of many public holidays, Malaysia Day.  We took it slow as the boys reeled with exhaustion.  A swim, a rest, and a tourist tour around Georgetown to familiarise ourselves with the lay of the land.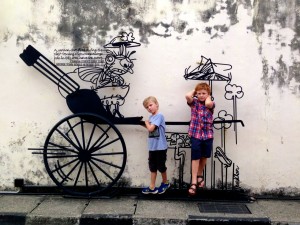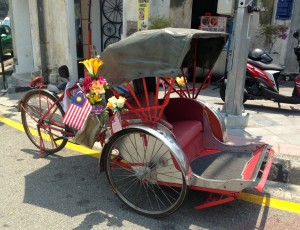 We progressed well through the week with Zachary taking to it all a little easier than Oscar.  I guess this was to be expected.  Due to the different NZ and UK system, Zachary has jumped into Year 3 having only completed a term of Y2 previously.  I reckon he will be fine, he achieved 3 house points in this first week alone.  It will take time for Oscar who takes longer to adapt to a new environment and will encounter a degree some loneliness as he navigates new friendships.  I am trying to be understanding and #worldsbestmum but they haven't been easy tis week.  Zachary is over-stimulated and Oscar has had both a dispassionate and antagonistic attitude.  I know this is their way of reacting, but it is gruelling for their only go-to person, and crammed into a single room.
Culture Shock
I know the first couple of days in Penang were intense culture shock.  Not shock at being in Malaysia, but more the change in our plans and routine, and being alone here to figure it all out.  I felt tearful and clung to the wonders of Viber chats with Mum and J.  For J it has been equally unyielding not least due to a horrific minibus journey back from Phnom Penh to Battambang via the Bayon Express.  DON'T DO IT!  Ever.  J reckons he saw his life pass before him a number of times.  According to J, if we had indeed been travelling as a family Zachary would've been sick at least 10 times, Oscar would've got out at the first stop and never got back in again and I would've refused ever to travel by road in Cambodia again!
Lunchtime Chaos
It has taken every last piece of my intellectual capability to figure out the school lunch system, homework, teacher names, parent names, the uniform, times, policies and routines for the week.  Term started only 2 weeks ago so luckily for the boys lots of parents are still figuring out the changes as we enter a new school year.  Luckily for me, midweek parents information evening at school.  The boys were looked after alongside with a few other stray children.  I found the evening most impressive.   I feel excited to be amongst such a vibrant and truly international community.  This was furthered by a Year 4 mum's coffee morning – 8 mums, 8 nationalities.  You surely can't beat this for an international education.  This is the way it should be.  Through an international education these children will bridge the cultural and linguistic divides that exist globally.  They will learn to appreciate other cultures, other religions, other languages.
Lessons from Sunflower School
Homework.  I have been dreading it (it's all about me!).  But I am most surprised.  It is so much more natural to sit and work with them than it ever felt in the past.  I have been sitting with them every day for my own Sunflower School.  I have lived and worked so closely with the boys during our travels and time in Cambodia that I am so much more attuned to their minds, their hopes, their fears and feel better armed as to how to navigate these.  I suppose I could see this as the opening part of Sunflower School Chapter 2.  It is imperative I maintain this closeness with the boys, to remain engaged in their work, and their environment.
Time to switch to a better value hotel, GLOW on Macalister Road, Georgetown and now our home for the next 20 nights.  I surfed like crazy looking for options, but it is both last minute and too short term for rental apartments.  I am conscious of the need for stability for the three of us.  We have been on such an incredible physical and personal journey these past months.  It would be easy to think that this is just another new country, but without the fourth member of our team, and back into a routine of full-time school, this is no easy adjustment!   I have to say we have become quite at home here at GLOW.  The staff are amazing and look after us three well.  There are plenty of hawker foods and shops only a short stroll from the hotel.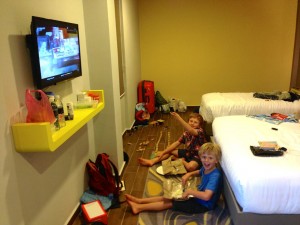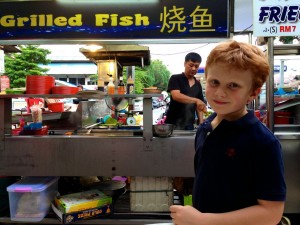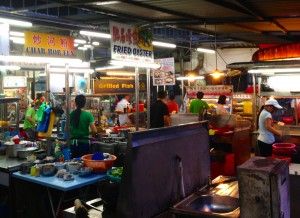 The boys begged me for a hire car and I gave in knowing it really would give us freedom to explore.  The best deal in town meant the oldest smallest car (seriously small) but absolutely perfect for our needs.  Penang has few road rules, and one hell of a crazy system of one way streets throughout Georgetown.  Armed with Google and a paper map for backup we launched from the hotel with whoops of joy from the back seat.  We practised our journey to school, Botanical Gardens, Straits Quay and believe it or not, Tescoes!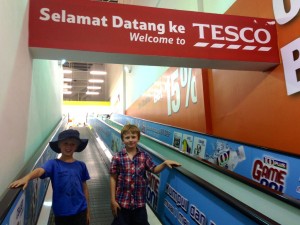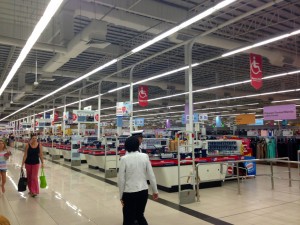 I have to admit I think I, we have all done well this week.  I have pushed what was a negative start to the week aside, and moved into Capable Positive Mode.  Positivity reaps rewards.  A glass half full will always bring more fortune than a glass half empty.  I have reached out for connections and I have made contacts.  I have maps.  I have been a tourist.  I have coffee dates.  I have a hire car.  I have driven the car!
I have watched the last of our savings disappear like water.  Hotels. Taxis. School fees. Uniform. Food.  My credit card will service us of a while and as I said last week, it is time to get serious, be responsible and attempt to launch a freelance career.  Who knows.  It's risky.  Sunflower Journey has taught me many lessons.  It is both healthy and rewarding to step outside one's comfort zone,  to take risks and be prepared for life to be your teacher.  The boys are so much more aware of money and the need to be cautious and make sensible choices.  Oscar has regularly asked to eat at the hawker stalls which I haven't understood at all until on questioning he claimed it was so much cheaper and we would save our money.  That's my boy as J would say.
So week one done and dusted.  Here I am on a Sunday morning somewhere I never would dream I'd be.  Adventure Zone kids play zone at Golden Sands Hotel, Batu Ferringhi.  Why?  Because the boys deserve it.  They are brave, inspiring, fun and the best ever companions.  I am so proud of them.